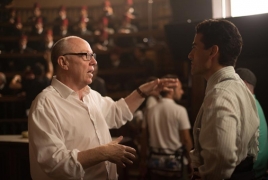 October 31, 2017 - 11:05 AMT
PanARMENIAN.Net - Joe Berlinger's documentary about the Armenian Genocide "Intent to Destroy" will hit the big screens in New York City on November 10, System Of A Down frontman Serj Tankian said in a tweet.
The film-in-film produced by Berlinger, Chip Rosenbloom and Eric Esrailian depicts the century of sophisticated denial campaigns by the Turkish government that perpetrated the Armenian Genocide in Ottoman Turkey, and features Atom Egoyan, Christian Bale, Mike Medavoy, Eric Bogosian, Serj Tankian, Angela Sarafian, Shohreh Aghdashloo, and the US ambassador John Marshall Evans.
In 2015, Academy Award-winning director Terry George (Hotel Rwanda) took on the challenge of making the first mainstream film about the 1915 Armenian Genocide that wiped out 1.5 million Armenians in "The Promise" (starring Oscar Isaac and Christian Bale). Berlinger's film combines a mixture of exclusive behind-the- scenes footage, rare archival material and investigative interviews that capture the shocking and complex history of the Armenian Genocide, all while presenting the unfolding, real-time drama of bringing this long-ignored chapter of human cruelty to the big screen.