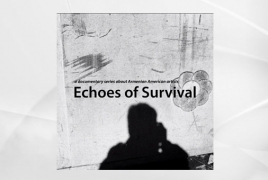 November 3, 2017 - 14:05 AMT
PanARMENIAN.Net - Several years ago, when Armenians across the globe were preparing to commemorate the 100th anniversary of the genocide that created diasporan communities from the Americas to the Middle East, Avo John Kambourian thought about what he could add to the conversation, LA Weekly says.
It wasn't lost on Kambourian that amongst those killed on April 24, 1915, the day recognized as the start of the Armenian Genocide, were intellectuals and artists. "We talk about the 1.5 million [people killed during the Genocide]," says the Sherman Oaks–based filmmaker inside a Little Tokyo coffeehouse, "but we don't talk about the individual people and what they did, the innovators and what they achieved and what sort of cultural loss came out of it."
Kambourian wasn't just interested in the stories of individuals from the past. He started thinking about artists of Armenian heritage who live today and who he says are "underrepresented." So, he opted to focus on present-day Armenian-American artists who have woven pieces of tradition and history into their work. The result is 'Echoes of Survival', a series of five documentary shorts that will screen in full at Arpa International Film Festival on November 4.
Arpa, which celebrates its 20th anniversary this year, isn't specifically an Armenian film festival, but a significant amount of its offerings come either from the country of Armenia or from filmmakers in the diaspora.
For Kambourian, who was born in the San Fernando Valley to ethnic Armenian parents from Syria, identity and filmmaking intertwine. When he was 20, the filmmaker took a break from college to join the volunteer program Birthright Armenia. In the small country in the Caucasus, he worked for a documentary film studio and taught at an after-school program focusing on photography and film. In 2012, he returned to the country when he was hired to document an art show. He traveled quite a bit, eventually making it into Turkey for the centennial of the Genocide, where he visited places once inhabited by Armenians. Those trips helped shape the work he would do back in the United States.
'Echoes of Survival' takes viewers into the lives of artists across the United States and looks at how identity has shaped their work. In Chicago, artist Jackie Kazarian uses her grandmother's lace as a silkscreen for an abstract painting. In New England, Armenian-American musicians gather at a Greek restaurant to jam. In Los Angeles, Ara Oshagan goes through the photographs he has taken within Armenian communities here and abroad.