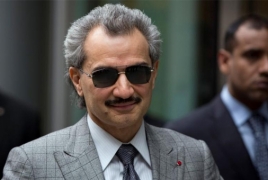 November 6, 2017 - 15:18 AMT
PanARMENIAN.Net - Saudi Arabia's Prince Alwaleed Bin Talal, a prominent member of the country's royal family and a wealthy investor, has been swept up in connection with a wide-ranging anti-corruption initiative, according to reports.
Alwaleed's grandmother was Munaiyir, whose family escaped the Armenian Genocide in the Ottoman Empire between 1915 and 1923. She was presented to Ibn Saud in 1921, when they were 12 and 45 years old, respectively.
Saudi Arabia's King Salman removed a host of prominent officials in a sweeping crackdown, in which dozens of princes and former ministers were detained. News outlets, including Saudi-owned Al Arabiya and The Wall Street Journal, reported Bin Talal was among those arrested. CNBC could not immediately confirm Bin Talal's status.
In addition to Bin Talal, former Finance Minister Ibrahim Al-Assaf was also detained and under investigation, Reuters reported, citing a senior Saudi official, CNBC says.
If verified, the arrest of Bin Talal would represent a jarring turn of events as the prince has cultivated an image as the de-facto public face of Saudi finance. It would also be the most dramatic chapter in the evolving narrative of Bin Salman, who has steadily consolidated his authority since his elevation to Defense Minister in early 2015.
Considered one of the most prominent members of the Saudi royal family, Bin Talal has been the subject of numerous profiles in U.S. and international publications.