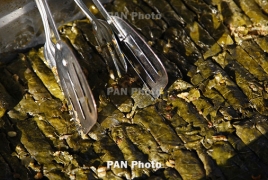 November 7, 2017 - 12:58 AMT
PanARMENIAN.Net - Award-winning cookbook author Olia Hercules has unveiled "KAUKASIS, A Cookbook", in which she is taking readers on a culinary exploration through the vibrant region that bridges Europe and Asia. Olia presents recipes from the countries of Armenia, Georgia, Azerbaijan, Iran, Russian, and Turkey.
KAUKASIS introduces unique recipes, background stories, and stunning photos of a region that is considered unfamiliar to many people. Olia's approach to this cuisine is creative, enticing, and gives readers an exciting gourmet perspective, Broadway World says.
The cookbook has a fascinating introduction by Olia telling readers about her approach to creating her book. The cookbook is then divided into 5 recipe categories that include roots, shoots, leaves & all; flour & ash; beasts from land, sea & air; pain be gone!; and sweet in the tooth. Olia also includes a guide to ingredients that helps readers know about the quality and origins of spices, fruit & vegetables, dairy, wine, and more.
KAUKASIS includes 100 delicious recipes that combine European and Middle Eastern ingredients in fresh, inventive ways. Some of our favorites include Tomato & Raspberry Salad, Vine Leaf Dolmas, Watermelon & Fish, Sahir's Stoned Chicken, Tarragon Soup, Preserved Whole Peaches, and Basil Sherbet.
Olia Hercules was born in Ukraine and lived in Cyprus for 5 years before moving to London to study a BA in Italian language, followed by an MA in Russian and English. She then decided to train as a chef at Leith's School of Food and Wine. She kicked off her culinary career working at London's Union Market before becoming chef-de-partie for Ottolenghi's. She has since gained national and international recognition for her culinary prowess and engaging personality and is a highly regarded chef, food stylist, and writer. Olia has appeared on The Food Network, launched an online startup (The Recipe Kit), contributes articles and video to the Guardian, which recently named her a Rising Star of 2015, and authored the critically acclaimed cookbook Mamushka.