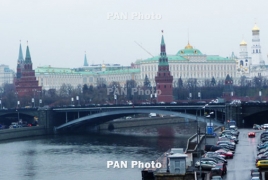 November 7, 2017 - 14:49 AMT
PanARMENIAN.Net - The State Central Museum of Contemporary History of Russia in Moscow will host an exhibition of works by the People's Artist of the Armenian SSR, author of theMother Armenia monument Ara Harutyunyan in the framework of the Days of Armenian Culture in Russia.
Titled "Sun in Stone", the exhibition will feature more than 70 works belonging to the artist's family and private collectors, as well as archival materials and personal items, Rusarminfo reports.
According to the granddaughter of Harutyunyan, Liana Akhinova, representatives of the Armenian and Russian culture ministries, as well as members of the artist's family will attend the opening of the event.
The exhibit will run from November 17 through November 24.
Harutyunyan is the author of more than 40 sites, monuments and architectural sculptures in Armenia and abroad. Among them are such iconic works as the Sardarapat Memorial, the relief of Sundukyan State Academic Theatre, the portal of Erebuni Museum, the obelisk dedicated to the soldiers of the 89th Taman Division, the monument to the head of French anti-fascist resistance movement Missak Manouchian and many others.