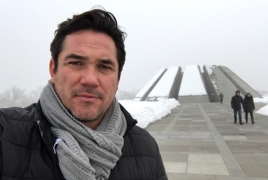 November 7, 2017 - 16:07 AMT
PanARMENIAN.Net - Dean Cain, who stars in and has executive-produced the documentary "Architects of Denial", alongside Montel Williams, says they hope to finally have the United States recognize the Armenian Genocide for what it was - a genocide.
The former Superman spoke with LifeZette about the Armenian Genocide, the documentary and its mission.
"I hope that "Architects of Denial" educates people about a very disturbing event that unquestionably took place, just after the turn of the 20th century. It was the first genocide in the 20th century, and millions were killed — including 1.5 million Armenians, 900,000 Greeks, and 750,000 Assyrians. It was a horrible tragedy that has been denied and covered up for over 100 years.
"That denial and covering up allows genocides to continue to this very day — in places like Syria, Iraq, and Sudan. In fact, when Adolf Hitler spoke about his "Final Solution," he said, "After all, who remembers the Armenians?"
"We are also very hopeful — and both Montel [Williams, another producer of the documentary] and I spent time on Capitol Hill in October — that we can get [House Res. 220] passed by the U.S. Congress. [We want to] finally have the United States recognize the Armenian Genocide for what it was, a genocide, and recognize that Christians today are one of the most persecuted groups in the world," Cain said.
The actor said he is not very optimistic that the Turkish government will recognize [this genocide any time soon].
"Many, many Turkish citizens already recognize the Armenian Genocide for what it was, but Turkish citizens are not allowed to call it a genocide — [that is] punishable by arrest and jail time or worse inside Turkey," he said.
"The current government, led by the authoritarian Recep Tayyip Erdoğan, seems to be headed in the opposite direction — and the relationship between the United States and Turkey and even NATO is suffering as a result."
Cain said he became involved in "Architects of Denial" through a number of Armenian friends who asked him if I knew anything about the Armenian Genocide:
"I was embarrassed I did not know much. My Armenian producer friend said, "I thought you were a history major — from Princeton!" That was the jumping-off point for me. I went to a march on April 24, about 10 years ago in Los Angeles, that commemorates the start of the Armenian Genocide [April 24, 1915] — and I learned an awful lot that day, and in the days since.
"Montel Williams and I executive-produced this film after traveling the world together doing charity work. Montel and I don't agree on everything politically, but we definitely agree on this: Genocide is wrong, and it needs to be stopped."
Williams announced earlier that "Architects of Denial" is one of 159 documentaries qualifying for Oscar consideration.