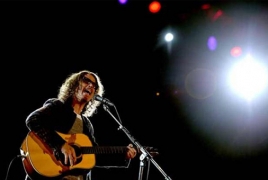 November 11, 2017 - 11:15 AMT
PanARMENIAN.Net - The Los Angeles Committee of Human Rights Watch will present its inaugural Promise Award to the song 'The Promise' on November 14, Human Rights Watch announced on Friday, November 10.
The pioneering recording artist Chris Cornell, who sadly passed away in May, wrote the title song for the film, 'The Promise', the first major Hollywood film about the Armenian Genocide.
"The song and its video fittingly weave the Genocide with humanitarian crises of today. The song focuses on courage, perseverance, and hope – connecting with emotions that characterize and amplify the worldwide struggle for human rights. Cornell donated all proceeds from the song to benefit refugees and children, and his song continues to inspire millions as an anthem for the human rights movementm," Human Rights Watch said in a statement.
"We are proud to name this award after The Promise, and present the inaugural award to Chris Cornell's inspiring song," said Justin Connolly, director of the Human Rights Watch Los Angeles Committee.
The renowned singer, songwriter, film composer, and human rights activist Serj Tankian – also known for leading the Grammy-winning band System Of A Down – will present the award. Tankian also served as the executive music consultant for The Promise and also contributed a song for the film's soundtrack.
'The Promise' film has raised awareness about the atrocities during the Armenian Genocide in 1915 and recruited the general public and leaders from around the world to fight for human rights with its #KeepThePromise social media campaign. All proceeds from the film are being donated to non-profit organizations and humanitarian causes – including the establishment of The Promise Institute for Human Rights at UCLA.