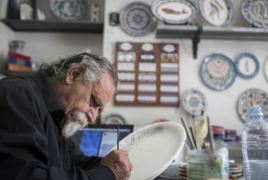 November 16, 2017 - 14:51 AMT
PanARMENIAN.Net - In his shop in the middle of the Old City market in Jerusalem, Hagop Antreassian sits among an array of colorful ceramic pottery and tiles, a craft that has been practiced by Armenians for 100 years in Jerusalem, Al-Monitor says while telling story of the 73-year-old artist.
Antreassian lives in the Armenian Quarter in the Old City of Jerusalem. For 40 years, he has taken great pride in the craft he learned from his elders while still a child, although he fears that the ceramics and tile making, the mark of the Armenian presence in Jerusalem, may now be disappearing.
Antreassian explains that his family, like many of the Armenian families in Jerusalem, came from Kutahya, Turkey, to escape the Ottoman Empire's Armenian Genocide during World War I. During the British mandate in 1920, three renowned Armenian families — the Balians, Karakashians and Alsians — were recruited to repair the tiles on the Dome of the Rock, a shrine that dates back to the seventh century. Ever since, the Armenian families that settled in Jerusalem have continued the crafts that first made them famous back in the Ottoman Empire, not only as a source of livelihood but as preservation of heritage.
"When I was a child, I would sit next to my grandfather as he made ceramic plates. I loved it so much," Antreassian said. "After his death, nobody in the family cared about this craft. Growing up, I decided to become a potter to prevent the extinction of my ancestors' traditional craft," he added.
Tourists who come to the Old Market and the Armenian Quarter flock to the tile shops that are part of the historical heritage in this part of town, which includes a closed Armenian monastery and several ancient churches.
He explained that the work is laborious, saying, "Several stages are involved in the making of Armenian ceramics. I start by drawing patterns on the piece, then I use coal for engraving or marking the ceramics. I move to the coloring stage. The completed ceramic piece is then displayed for everyone to see its beauty and glittering brilliance."
Other materials such as glass, crystal and porcelain make their way into the traditional Armenian reds, blues and greens of his art. Many of his designs, though original, resemble the circular and rectangular patterns made by his grandfather. He bakes his ceramics in a traditional oven.
Antreassian is fluent in Arabic and Armenian and has learned some English, French, German, Spanish, Italian and Irish to speak with his foreign customers. His shop is often filled with tourists. "I make various forms of ceramic and porcelain pieces at different prices. The smallest pieces are sold for $20, while large prices start at $200 up to $1,000," he said.
He pointed out that tourists are willing to pay any price to own Armenian ceramics. "In foreign countries, they use Armenian ceramics in various sculptures and decorative pieces, but mostly these are not very appealing. They are machine-made ceramics, not handcrafted. When visiting Jerusalem, foreigners rush to buy handmade Armenian ceramics reminiscent of old times."