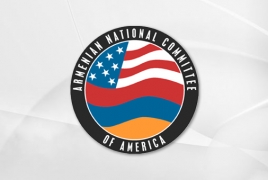 November 18, 2017 - 11:30 AMT
PanARMENIAN.Net - Armenian National Committee of America (ANCA) Chairman Raffi Hamparian consulted this week with U.S. Senator Chris Van Hollen (D-MD), a member of the influential Appropriations Committee, about strengthening the U.S.-Artsakh (Nagorno Karabakh) relationship, including through increased travel and communications among officials as well as artists, educators, students, and other civil society stakeholders. Senator Van Hollen serves on the Senate Committee on Appropriations, Subcommittee on State and Foreign Operations, which sets funding levels for foreign aid, among other issues.
"The ANCA is proud of our decades-long relationship with Senator Van Hollen," remarked ANCA Chairman Raffi Hamparian. "From our work in 2001 on the Maryland Armenian Genocide resolution with then-State Senator Chris Van Hollen to our work with him as a member of the U.S. House - Chris Van Hollen continues to be a stalwart friend of Armenian Americans, from Baltimore to Bethesda and across the state of Maryland." Senator Van Hollen, earlier this year, led efforts on the Senate side to secure continued assistance to Artsakh, a one-of-a-kind aid program, started in Fiscal Year 1998, that has provided maternal health care and clean drinking water and, is, today, funding the HALO Trust's work clearing mines and unexploded ordnance from across Artsakh's interior fields and farmlands. The Maryland Senator's efforts were supported by the Ranking Democrat on the Appropriations Committee, Patrick Leahy (D-VT), and fellow appropriator Senator Marco Rubio (R-FL).
These efforts on the Senate side were matched by Armenian Caucus Co-Chair, Rep. David Valadao (R-CA), who - with the help of his Caucus colleagues - secured the passage, on September 7th of this year, of the Valadao Amendment to the foreign aid bill, H.R. 3354, appropriating funds for the completion of HALO's demining mission.
Over the past two decades, the U.S. aid program to Artsakh - initiated through ANCA advocacy - has secured over $40 million dollars in life-saving U.S. assistance to the independent republic.