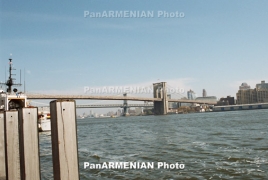 November 20, 2017 - 10:46 AMT
PanARMENIAN.Net - The United States Department of Homeland Security (DHS) has lost track of 251 Armenian immigrants who have been trusted to live in communities before they are deported, The Daily Mail reports.
Immigration and Customs Enforcement allows more than 73,000 foreigners to live in towns and cities across the United States as part of the controversial Alternatives to Detention (ATD) program.
Instead of being locked up in detention centers, they are allowed to relocate before they are processed and sent back to their native countries.
Figures released recently show that ICE is losing track of more than 18% of the individuals chosen to be part of the program - including suspected gang members and residents from President Trump's six travel ban countries.
The majority that are allowed into the program are from Central America.
The most (18,853) hail from El Salvador - a country that is struggling to deal with deadly gang violence.
Guatemala (18,280), Honduras (15,362) and Mexico (8,343) follow closely behind.
Of those enrolled, 212 come from Trump's eight travel ban countries.
Immigrants from Romania (1,128) and Armenia (251) make up the highest proportion from Europe, while India (701), Haiti (5,238) and China (701) also feature in the top countries.