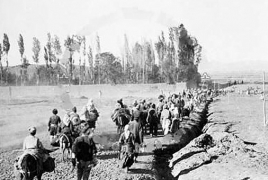 November 20, 2017 - 12:41 AMT
PanARMENIAN.Net - Youngstown author Joseph Pasquarella Jr.'s new book, "The Ghosts of Alexandrapol, The Armenian Genocide, The Lost Notes of Khatrun Michaelian," has recently been published, Vindy.com reports.
"The Ghosts of Alexandrapol" is a story of his journey to find more information about what his grandparents survived while growing up during the Armenian Genocide.
Pasquarella Jr. who is the author of "Elegy of the Song Sparrow" and "Images of Miss Lindfors," was born in Youngstown in 1962. Pasquerella lives in Northeast Ohio with his wife, Kalliopi "Caroline," and two children, Joseph III and Rachel.
The book is available for purchase at Amazon.com and Barnes&Noble.com.