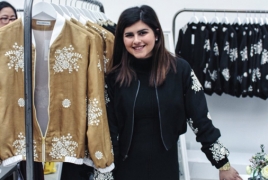 November 22, 2017 - 14:16 AMT
PanARMENIAN.Net - Dubai-based designer of Armenian origin Talar Nina is launching her third collection, Eastern Promise. Inspired by her love of the Middle East, Eastern Promise has a mix of delicately embroidered bomber jackets, ornamental track pants, and skirts, all of which are both elegant and comfortable, Khaleej Times says in an article.
The sequined collection consists of bomber jackets, track pants, joggers, long sleeveless vests, and mid-length skirts.
The designer donates part of profits to the 'Moving Forward' Centre for children in Armenia's second largest city of Gyumri.
"My frequent trips to Armenia are a source of inspiration - the architecture, art, embroidery and needle lace," Nina said in a recent interview.
"Spending summers with my family in Amman, Jordan has also given me opportunities to travel throughout the Arab world and visit cities like Beirut, Aleppo and Damascus and experience the history and diversity of the region."
The brand was launched in 2016, and the designer hopes to introduce new pieces every 2-3 months.
"Our aim is to launch four collections a year, and add holiday and Ramadan collections to provide options for our clientele," she said.