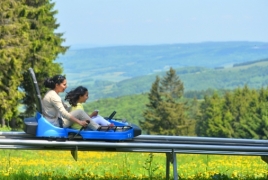 November 27, 2017 - 17:55 AMT
PanARMENIAN.Net - A high-speed bobsleigh track called Toboggan will open on the territory of the Armenian resort town of Tsaghkadzor.
Authored by entrepreneurs Maxim Sychev and Seyran Harutyunyan, Armenia's first-of-its-kind bobsleigh runway will open on July 1, 2018.
According to entrepreneurs themselves, Toboggan will foster the development of entertainment services and family recreation in Tsaghkadzor, at the same time helping to maintain the interest of numerous visitors in the city and provide an unforgettable experience to them.
To implement the project, entrepreneurs decided to attract investments of about $1.5 million through a special form of crowdsale - an ICO campaign, which is possible thanks to blockchain technology.
The 1025 meter long ride's maximum speed can reach 40 km/h.
"If this is too fast for you, you can lower the speed to a comfortable level, using brake levers," explained Sychev, adding that they have done their best to ensure maximum security.
"Belts, side protection grids, two brake levers, automatic braking at the finish, maintaining the right distance between the sleds make the rides safer, something which is very important with a possible capacity of up to 500 people per hour."
The track will work all year round, 24/7.
To participate in the ICO-campaign, you need to purchase tokens this December following instructions on the Toboggan's website. From July 2018 the tokens can be exchanged for a ticket for one full trip or can be sold back to Toboggan with a 25% premium from a company's profit on a first-came-first-served basis.
To use the ride, you can either purchase a token this December for $4 and exchange for a ticket in July 2018 or to purchase a ticket for $5-$6.5 starting from July 2018.