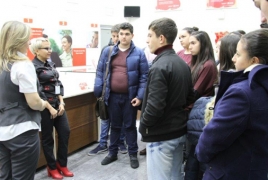 November 29, 2017 - 13:05 AMT
PanARMENIAN.Net - VivaCell-MTS as a model of a responsible corporate culture in Armenia always creates an opportunity for young people to get acquainted with corporate culture to help them in their future professional orientation.
Visit within an open doors event have become a tradition, with 10th and 11th grade students from Yerevak Educational Complex paying a visit to the company headquarters recently.
During the meeting, the students had the opportunity to get acquainted with the history of VivaCell-MTS and achievements in the field of telecommunications.
Particularly, the students had a tour through the headquarters, as well as visited the company's core functional units, including Customer Support Contact Center and the service center. At the end of the tour, the students met with VivaCell-MTS General Manager Ralph Yirikian and received his recommendations about their professional orientation and choice. The meeting was followed by an interactive Q&A session.
"Such awareness meetings are very important for sharing experience, making a right career choice, and providing a successful example to be guided by. Communication with experienced professionals in various fields will further broaden the horizons and mindset of the youth and will more accurately determine them in choosing a profession," said Yirikian.
VivaCell-MTS constantly shares its experience with young people who want to learn about telecommunications, corporate culture and industry-related professions.