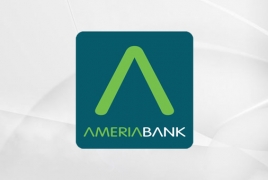 December 1, 2017 - 10:24 AMT
PanARMENIAN.Net - Ameriabank CJSC and the Dutch development bank (FMO) have signed a loan agreement in the sum of $30 million. The loan facility is aimed at financing SMEs led by young entrepreneurs and younger retail clientele.
"We highly appreciate the relationship with our long standing partner, which started back in 2009. Today we are pleased to announce about a new loan facility agreement, continuing our successful cooperation," commented Artak Hanesyan, CEO of Ameriabank on 30 Nov 2017 after signing the Agreement.
"SME and retail business development is one of Ameriabank's strategic priorities, and we see a huge potential in youth SME and retail businesses, so expect this new loan facility to be successfully utilized."
FMO Chief Investment Officer Linda Broekhuizen commented: "FMO is proud to continue its strong and succesful relationship with Ameriabank, supporting the further economic development of Armenia. This new loan facility will enable Ameriabank to continue its growth and helps support job creation in the country."
The loan facility will help to increase SME lending volume in Ameriabank and will trigger development of SMEs in Armenia and enhancement of their competitiveness in local and international markets.
The first investment bank in Armenia, Ameriabank has been providing a large package of innovative banking services since 2007. Now Ameriabank CJSC is a universal bank offering corporate, investment and retail banking services in a comprehensive package of banking solutions.