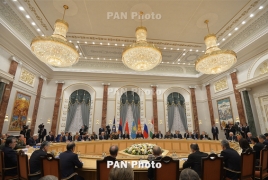 December 1, 2017 - 10:53 AMT
PanARMENIAN.Net - Heads of CSTO member-states in a statement on Thursday, November 30 declared support for the efforts of the countries co-chairing the OSCE Minsk Group in their efforts to settle the Nagorno Karabakh conflict.
"The co-chairmanship of the OSCE Minsk Group represented by Russia, France and the United States is the only structure having the relevant mandate to assist the parties in achieving a settlement of the conflict by political and diplomatic means," the CSTO statement said.
"Thanks to the efforts of the three co-chairing countries, the principles and elements have been developed as the basis for resolving the problem, which are reflected in joint statements by the presidents of Russia, France and the U.S.
"Confirming the need for an exclusively peaceful solution, we express our support for the efforts of the OSCE Minsk Group co-chairs in the settlement of the conflict on the basis of the norms and principles of international law, the UN Charter provisions, as well as the Helsinki Final Act, in particular those relating to the non-use of force or threat of force, territorial integrity of states, equality and the right of peoples to self-determination."
Also, the CSTO heads of state expressed support to the implementation of agreements reached at summits in Vienna, St. Petersburg and Geneva in 2016-2017 aimed at preventing the escalation of the situation, observing the ceasefire, taking additional measures to reduce tensions in the conflict zone and intensifying the negotiation process.
President Serzh Sargsyan participated in the summit which followed a joint session of foreign ministers, defense ministers and Security Council chiefs of CSTO member countries.