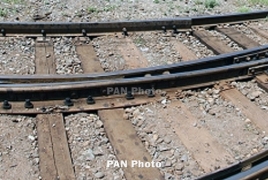 December 5, 2017 - 12:00 AMT
PanARMENIAN.Net - Georgia's authorities hope the Baku-Tbilisi-Kars (BTK) railway project will provide jobs and security for isolated Akhalkalaki, in a region with a large ethnic Armenian population, but Akhalkalaki locals complain they have seen little benefit so far from a new station's opening.
Georgian Prime Minister Giorgi Kvirikashvili has stressed the railroad's potential to achieve greater economic and sustainable development.
"I believe that this forum will open up new opportunities for strengthening and deepening regional ties which will enhance economic growth and ensure security," he said, speaking at the Silk Road Forum in Tbilisi on November 28.
In an article published on Monday, December 4, Eurasianet.org says the railway station on the Georgia-Turkey border in Akhalkalaki is expected to serve as an important node in China's global, $1-trillion infrastructure development project – dubbed the Belt and Road.
But it has gotten off to a rough start: the building is deserted, and the accompanying railway is far from complete.
"It was officially opened, but it won't be ready until at least 2018," said Rima Garabyan, director of the local media outlet JNews. "At the moment, it's just for show."
Akhalkalaki locals complain they have seen little benefit so far from the station's opening. The Turkish and Azerbaijani companies overseeing the project brought their own laborers to see it through. The lingua-franca of the construction site is Turkish, with Turkish and Azerbaijani flags adorning the workers' cabins.
"The mood in town is that the project is not for us," Garabyan said. "Over 1,000 could potentially work there, but in reality, none of us are."
The involvement of outsiders has infused the discontent over the construction with an ethnic flavor. Over 95 percent of the residents of the town, which borders on Armenia, are Armenian.