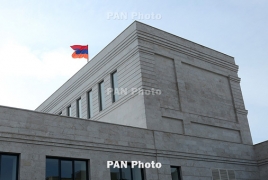 December 11, 2017 - 11:33 AMT
PanARMENIAN.Net - Armenia has improved its standing on the latest edition of Digital Diplomacy Review by 18 notches to take the 34th spot among 209 countries of the world and outperform its neighbors in the South Caucasus.
Digital diplomacy, also known as eDiplomacy, is usually defined as the use of the Internet and new technologies to help achieve diplomatic objectives.
The DDR17 identifies 5 major digital diplomacy needs, depicted as hierarchical levels within a pyramid. They also represent the stages of progress from a beginner to advanced degree of digital diplomacy practice at corporate level: Presence, Customization, Up-to-dateness, Engagement, Influence.
Armenia was on the 52nd spot in the 2016 edition of the report.
This year, Azerbaijan and Georgia have taken the 47th and 66th positions, respectively.
The DDR17 team collected digital assets used by foreign ministries from the beginning of 2017 to end of November 2017.