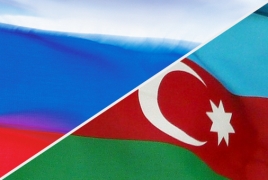 December 13, 2017 - 17:03 AMT
PanARMENIAN.Net - First Deputy Chairman of the Russian State Duma Committee for the CIS, Eurasian Integration and Relations with Compatriots Konstantin Zatulin has said that the current situation surrounding the appointment of the Russian diplomatic representative in Azerbaijan hardly benefits relations between the two countries.
Baku did not approve the appointment of Georgy Zuev as Russia's ambassador to Azerbaijan for his "pro-Armenian stance". According to the rules of diplomatic relations, before the appointment of an ambassador, the host party is requested to give prior consent for the delivery of credentials.
Zatulin said that Zuev's candidacy was being discussed in the committee but was dropped later, and that Russian president Vladimir Putin is expected to name a new candidate for the post.
Zatulin said that in general, "at the stage of approval of candidates" for the post of ambassador of a foreign state all the countries "can express their views". At the same time, according to him, the behavior of the Azerbaijani side is connected with the policy under which the republic does not allow citizens with Armenian family names to enter its territory.
"From this viewpoint, the coordination of diplomatic representatives boils down to the fact that Azerbaijanis are trying to reveal the Armenian roots of one or another of our representatives or some kind of connections, real or imaginary. This time, they went so far in this respect that it already becomes indecent, in my opinion," Zatulin said.