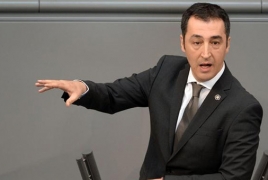 December 25, 2017 - 12:03 AMT
PanARMENIAN.Net - The Turkish state played a role in the murder of journalist of Armenian descent, Agos weekly editor-in-chief Hrant Dink, German lawmaker Cem Ozdemir has said, according to Deutsche Welle.
The co-chair of the German political party Alliance '90/The Greens was asked to comment on the revelations of Turkish-Armenian MP Garo Paylan who claimed that exiled opponents of Turkish President Recep Tayyip Erdogan including Alevi and Armenian leaders, journalists and academics will be exposed to assassination or a series of assassinations in Europe.
"I have no information about this; so there is little I can say concretely on the matter," Ozdemir was quoted as saying.
"But it wouldn't surprise me given that Hrant Dink, a Turkish-Armenian journalist and a good friend of mine, was killed by a 16-year-old [in Istanbul] — and it's known that the Turkish state played a role in this murder.
There are many journalists, intellectuals and academics who've come to Cologne and Berlin, in particular. I recently attended an event by Turkish-Armenian journalist and blogger Hayko Bagdat, who has become a well-known figure in Berlin. He wore a bullet-proof vest because he'd received credible death threats a day earlier. I think we must make it clear that Germany will not tolerate such a climate of fear. It's bad enough that such fear already pervades Turkish society."
Paylan said last week that he had confirmed the report from various sources.According to him, Turkish citizens, as well as Armenians and Alevis living in Europe in particular will be targeted by assassination or a series of assassinations.