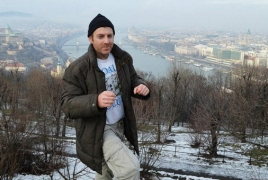 December 25, 2017 - 18:07 AMT
PanARMENIAN.Net - Russian-Israeli blogger Alexander Lapshin has wrote in his blog that his arrest in Azerbaijan helped double the number of tourists traveling to Artsakh (Nagorno Karabakh) in 2017.
"2017 was not an easy year for me as I was jailed in an Azerbaijani prison because of a trip I took to Artsakh. I happened to dive into the dirty affairs of the Azerbaijani clans, learn about the family squabbles of the Aliyevs, fly on the personal plane of the wife of the sultan of Baku, witness the bickering for power and oil money in this Muslim country, their racism and hatred not only towards the Armenian people because of the conflict in Artsakh, but towards foreigners as a whole," Lapshin said.
"Paradoxically, trying to intimidate the whole world, Azerbaijan, on the contrary, contributed to the fact that in 2017 Artsakh was visited by almost twice as many tourists as in the previous year."
Also, the blogger cited the crew of Travel Blog Baltic, who traveled to Karabakh to prepare a film-trip about the country as a popular tourist destination.
The teaser unveils stunning aerial footage of the mountains of Karabakh, the hustle and bustle in the capital, Stepanakert, and the tranquil life in villages, the ever-growing economy, the many unique forms of arts and crafts.