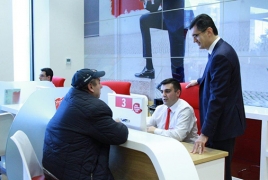 December 27, 2017 - 18:46 AMT
PanARMENIAN.Net - A new VivaCell-MTS service center has opened in Nor Nork administrative district on 10/6 Gay Avenue which will work seven days a week (from 09:00 till 21:00 Monday through Friday, and from 09:00 till 18:00 on Saturdays and Sundays).
The newly opened service center allows the telecommunication operator to be closer to subscribers living and working in the Nor Nork district. With the new hall, the total number of VivaCell-MTS service centers across Armenia reaches 79.
"VivaCell-MTS continues creating new opportunities for its subscribers. We prioritize face-to-face communication with the customer and the quick response to their needs, at the same time bringing the most affordable and innovative mobile devices to our customers," said the company General Manager Ralph Yirikian.
In the new service center, as well as in other centers, a wide range of mobile devices are offered at discounted prices. These innovative devices are the best solution for those who are planning to make a Christmas gift to their loved ones. Also, Viva prepaid and postpaid tariff plan subscribers (except for subscribers of Viva 1500 prepaid option) can convert the embedded on-net airtime to MBs till January 13, 2018.
In VivaCell-MTS service centers one can subscribe to postpaid and prepaid packages, including Viva tariff plans offering embedded minutes and Internet, as well as tariff plans offering Internet through 3G/4G modems and Wi-Fi routers. One can also buy notebooks, tablets, scratch cards, as well as activate roaming services, choose a phone number, get corporate packages, receive necessary customer support from our professional staff, as well as benefit from the services provided by MobiDram.
"I am thankful to all the customers who use our services and products. You motivate us to continue being the leader in the telecommunications sphere and expand our 4G network. I wish you all a happy New Year. May the coming year bring success and happiness. The year 2018 will be full of surprises and new offers for VivaCell-MTS subscribers," added Yirikian.
Also, the VivaCell-MTS General Manager presented an iPhone X to Viva tariff plan subscriber Mariam Madoyan, who was planning to buy it.