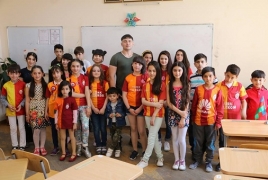 December 28, 2017 - 19:22 AMT
PanARMENIAN.Net - An Azerbaijani teacher who was fired for promoting peace and tolerance towards Armenians says he took that step intentionally and is constantly teaching "tolerance, democracy, human rights and equality" to his students.
According to local media reports, Roshan Azizov recently dressed an Azerbaijani schoolgirl in an Armenian national costume, photographed her against the background of the Armenian church in Baku and published the photo on his facebook page, which caused a lot of controversy.
In a conversation with PanARMENIAN.Net , Azizov said people should treat other nations, including Armenians, the way they'd like to be treated.
"I realised that somebody had to take a step forward and say something in order to open the people's eyes," Azizov said, adding that the Azerbaijani people are "merciful and kind" and will understand one day that he is right.
"Armenians and our people must live in peace, it's possible for the two nations to coexist side by side. War is not a solution, it's an excuse."
According to Azizov, who is a teacher of English at a Baku public school, people shouldn't rush into making wrong decisions, as everyone deserves to be respected, regardless of their religion and nationality.
"Both Armenians and Azerbaijanis must take certain steps and learn to treat each other with respect," Azizov said.
The Baku resident also added that the girl's parents were aware of his intention and fully supported him in his undertaking.
"Those kids still call me and say they still love me even after I was expelled from school for no reason," Azizov said, vowing to remain in Azerbaijan to continue struggling, even through his "life is in danger".
"I am in a great danger, but I don't think I will be arrested [as] the government will not make such a mistake, but i think it is also in Azerbaijan's interest for this conflict to be settled in a peaceful way," he said.