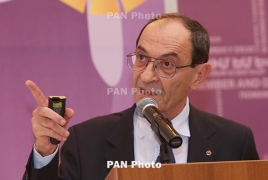 January 11, 2018 - 17:32 AMT
PanARMENIAN.Net - There is no atmosphere of trust between the sides to the Nagorno Karabakh conflict, deputy foreign minister Shavarsh Kocharyan told reporters on Thursday, January 11, commenting on the meeting of Armenian and Azerbaijani foreign policy chiefs in mid-January.
"It's hard to speak about progress as there is no atmosphere of trust between the sides," Kocharyan said.
"We witnessed a variety of statements which were in line with Armenia's foreign policy priorities aimed at implementing trust-building mechanisms."
According to the deputy foreign minister, adherence to the ceasefire is of major importance, with the meetings aimed at tackling this kind if issues.
Also, Kocharyan failed to provide precise dates for the meeting of the two foreign ministers.