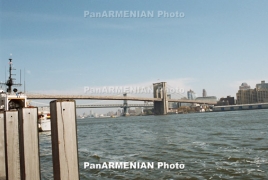 January 15, 2018 - 10:56 AMT
PanARMENIAN.Net - A part of the 210th Street in Bayside neighborhood of New York City will be symbolically co-named Armenia Way, Fr. Abraham Malkhasyan who serves in the Church of the Holy Martyrs in Bayside, NY, reveals in an article, published on the Armenian Mirror-Spectator.
The idea was born three years ago in January 2015, when the Holy Martyrs Genocide Centennial Committee began plans for their year of events.
"With the help of Garo Sekdorian, former member of Community Board 11 (CB 11) that serves Bayside and the surrounding communities, Dr. Lynn Cetin (Chair of the Centennial Committee) and I embarked on a mission to make this dream a reality," Fr Abraham says.
"Despite our efforts and the many connections I made with many prominent community members, the project fizzled and the dream of seeing "Armenia Way" on 210th Street dwindled over the next two years."
Almost three years after the project was launched, the CB 11 turned out to have unanimously voted in approval of the co-naming of 210th Street.