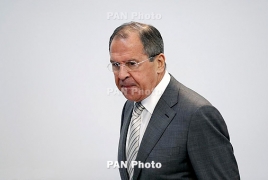 January 15, 2018 - 13:25 AMT
PanARMENIAN.Net - Moscow expects some positive impulses from Armenia and Azerbaijan over the settlement of the Nagorno Karabakh conflict, Russian foreign minister Sergey Lavrov told a press conference on Monday, January 15.
According to him, it's Russia's priority to make the situation on the frontline calmer, which would help move towards a political settlement, TASS reports.
"This problem [Nagorno-Karabakh] cannot be settled in a single document once and for all," the Russian foreign policy chief said.
Lavrov stressed that Russia can have no concrete plans for resolving the issue as "only the parties themselves can solve the problem."
The minister said that Russia and other co-chairing countries are trying "to offer compromises that could lead to a common standard of issues upon which the parties are unable to reach an understanding for now."
"We expect that some positive impulses will follow from the two sides [Armenia and Azerbaijan]," Lavrov said.
The OSCE Mission will on Tuesday conduct a planned monitoring of the ceasefire on the border of Artsakh (Karabakh) and Azerbaijan, on the Akna-Hindarkh road section.