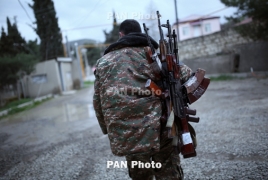 January 26, 2018 - 17:57 AMT
PanARMENIAN.Net - 8.6% of Armenians are ready to participate in violent protests in the event they disagree with the results of a possible settlement of the Nagorno Karabakh (Artsakh) conflict, the Caucasus Institute said in a new survey.
Over 60% of the respondents said they would take no action; two thirds of these, or almost 40% of the total, said they wouldn't even express their opinion. 32% said they would protest against the implementation of a settlement that they disagree with: 23.4% would take part in peaceful protests and 8.6% in violent ones.
In total, about one third of the respondents said they were ready to protest against a settlement plan they disagree with.
Unsurprisingly, there are more youth among active protesters: 13.6% among respondents aged 25 and younger. Readiness for protests is almost equal in all age groups, with the difference that youth choose violent protests more often than older people but still prefer peaceful protests.
Five questions included in a national representative opinion poll of 1600 respondents in Armenia conducted by IPSC in summer 2017.