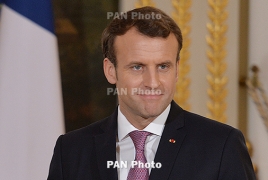 January 31, 2018 - 10:38 AMT
PanARMENIAN.Net - French president Emmanuel Macron on Tuesday, January 30 evening attended a dinner of the Coordination Council of Armenian organizations in France (CCAF) and promised to include "a day for the commemoration of the Armenian Genocide" in the French republic's calendar, the The Élysée Palace said in a tweet.
It was a campaign promise.
"The battle for justice and recognition is ours, and we are fighting it by adding a day for the commemoration of the Genocide to the Republican calendar," Macron said, adding that "it is essential that the national representation (National Assembly - ed.) get back to this subject in the coming months".
Macron, who will visit Armenia for La Francophonie summit in October, was the guest of honor at the dinner hosted by French-Armenian songwriter and jazz musician André Manoukian, which brought together 500 representatives of the Armenian community.
Also attending the event were Mayor of Paris Anne Hidalgo, President of the Regional Council of Île-de-France Valérie Pécresse, French elected officials of Armenian origin as President of the General Council of Hauts-de-Seine Patrick Devedjian and Mayor of Lyon Georges Képénékian, Turkish deputy of Armenian origin Garo Paylan (HDP), as well as Jewish community leaders.
At the event, CCAF co-chairs Ara Toranian and Mourad Papazian urged Macron to accompany them to Nagorno Karabakh (Artsakh), but the French president kindly rejected, adding that Paris would cease to be useful in the conflict and would thus be unable to be heard by both parties.
"I hope to come with you the day we have settled all this (the conflict - ed.)," he concluded.
Macron hosted Armenian president Serzh Sargsyan on January 23 and promised that France will always be there for Armenia.