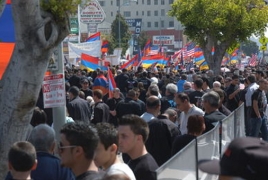 February 3, 2018 - 11:29 AMT
PanARMENIAN.Net - Unified Young Armenians (UYA), a U.S.-based independent organization, will organize its annual event to commemorate the 103rd anniversary the Armenian Genocide in Little Armenia, Hollywood.
A Twitter post revealed that the March for Justice will start from the Armenian Genocide Martyr's Square in the morning hours of April 24, the day on which millions of Armenians around the world gather to pay tribute to the memory of the 1.5 million Armenian victims of the Genocide, perpetrated at the hands of the ottoman Empire.
Just as in the decade past, the Hollywood, California March for Justice will serve as one of the key focal points for raising awareness for the Armenian Genocide, Assyrian Genocide (Sayfo or Seyfo), the Greek Genocide (Pontic Genocide).
Some three dozen countries, hundreds of local government bodies and international organizations have so far recognized the killings of 1.5 million Armenians in the Ottoman Empire as genocide.
Turkey denies to this day.