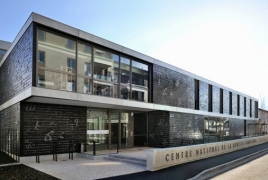 February 7, 2018 - 14:09 AMT
PanARMENIAN.Net - The Regional Council of France's Auvergne-Rhône-Alpes chaired by president of The Republicans Laurent Wauquiez has decided against renewing the grant it provides to the National Center of Armenian Memory (CNMA) in Décines preferring "to focus on economic relations with Armenia" instead, Lyon Capitale reports.
The Council said it recognizes the importance of the center and its role in preserving the Armenian diaspora created as a result of the Genocide.
However, it said, prioritization of the projects on the economic development and strengthening of business ties between the companies of Auvergne-Rhône-Alpes and Armenia was necessary.
The center which thus loses one-third of its budget, expressed disappointed.
In a statement, the CNMA lamented the decision of the regional council not to renew their grant of 45,000 euros., claiming that the move will have significant consequences on the center's activity and its ability to keep all the staff.
Inaugurated in 2013 in Décines, on the outskirts of Lyon, in the presence of Aurélie Filippetti, then Minister of Culture, the center is also funded by the city of Décines, the metropolis of Lyon, the state and various foundations. But the regional council was the main contributor: 350,000 euros were donated for the creation of the center, with a further 30,000 and 45,000 euros alloted in 2016 and 2017, respectively.