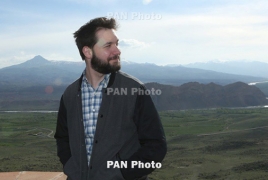 February 8, 2018 - 13:00 AMT
PanARMENIAN.Net - Reddit Co-Founder Alexis Ohanian announced on Wednesday, February 8 he will step down from daily duties at the internet company and focus his attention on Initialized Capital, the early stage venture capital firm that he co-founded and is known for investments such as Coinbase and Instacart. He will continue to sit on Reddit's board, The Wall Street Journal reports.
Ohanian's mother was born in Germany, while his father is the son of Armenian immigrants.
Ohanian, 34, said the timing of his decision reflected a number of personal and professional factors, including his marriage last year to tennis superstar Serena Williams and the birth of their daughter, Alexis Jr.
Ohanian said the decision also reflected his confidence in Reddit's renewed growth, and his desire to focus his professional energy on investment opportunities in emerging technologies such as blockchain.
"I had a pretty productive last year, personally, when it came to getting married, as well as having a baby," Ohanian told CIO Journal. "I came back from parental leave at the start of January, and really started thinking about where I wanted to be, what I wanted to be doing."
Reddit was in stronger shape, he said, claiming that it boosted revenue fivefold during the last three-plus years since he had re-engaged with the company. Reddit, which has been ranked as the fourth most popular U.S. internet site, raised $200 million last year and was in good hands with co-founder Steve Huffman as CEO, he said. The company, launched in 2005 and backed by Y Combinator, says it was valued in last year's funding at $1.8 billion.
This year will see a continuation of the company's strategy to make Reddit more welcoming, according to Huffman. That includes an updated website, scheduled to launch in the first quarter, as well as initiatives to personalize the site for individual users, and to improve its chat functionality. "We're basically rebuilding the entire product," Huffman said. "We have a long way to go there."
Ohanian has said that the future of social media lies in more authentic communication. At a time of growing concern about social media standards, the values of free expression and community can be at odds, though. "Our goal for Reddit is to create a platform where people can express themselves authentically and also to build a space where everyone can find their home — we evolve our policy regularly to maintain the balance between those two values," Ohanian said.