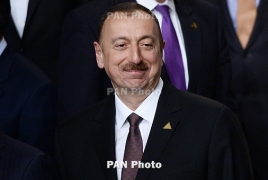 February 10, 2018 - 16:23 AMT
PanARMENIAN.Net - Azerbaijani president Ilham Aliyev's comments that Yerevan is "a historically Azerbaijani territory" are interesting not just because they are complete nonsense from a scientific point of view. What is more interesting is that such marginal historiography and mythology sometimes lead to real wars, and there are many such examples in history, the Russian newspaper Vzglyad says in an article.
Aliyev on Thursday, February 8 delivered threats against Armenia, claiming that "Yerevan Khanate and Zangezur-Goycha are Azerbaijan's historic lands."
"In the coming years, we should be more active about this matter and organize presentations and exhibitions in various parts of the world," the Azeri leader said, according to Haqqin.az.
"Yerevan is our historic land, and we, the Azerbaijanis, must return to these territories. This is our political and strategic goal, and we should reach this objective step-by-step."
The publication notes that Aliyev's statements naturally caused a sharp reaction in Yerevan.
Armenian foreign ministry spokesman Tigran Balayan accused Azerbaijan of racism, adding that Aliyev's comments are ridiculed even in Azerbaijan.
According to the author of the article, such a loud statement was clearly made on the eve of the presidential election in Azerbaijan, scheduled for April. In general, it did not go far from "kitchen historiography".
"Kitchen historiography" is an unscientific attempt to either artificially "lengthen" one's history, or pouch territory, influence and make up certain features of a national character.