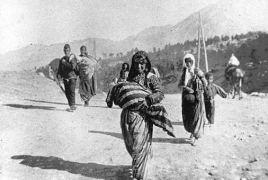 February 13, 2018 - 14:17 AMT
PanARMENIAN.Net - CSUN Armenian Students Association along with Armenian fraternity AEO, took to Matador Walk on Monday, February 12 in a silent demonstration to raise awareness for the Armenian Genocide that began in 1915, which resulted in the deaths of 1.5 million Armenians, The Sundial reports.
The demonstrations are organized and performed nationwide by ASA chapters including CSUN, UCLA, UC Irvine, Cal Poly Pomona, and Yale, as well as universities in Australia and Europe.
The annual protest is called "stain of denial" according to Araz Maleky, president of the Armenian Student Association chapter at CSUN.
"Stain of denial is held on the same day everywhere on other campuses nationally," Maleky says. They have done this protest on campus for about 3-4 years.
"The genocide didn't happen in one day so what we're trying to do is shine a light on the fact that it's not just one day we should be commemorating," Maleky said. "We want to bring awareness."
Maleky got involved two years ago when she joined the state of denial protest on campus. "Everyone was very friendly, it became a cultural boost, I started to love my culture even more," Maleky says.