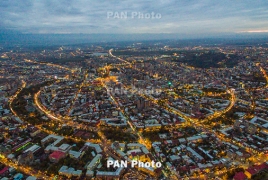 February 13, 2018 - 18:51 AMT
PanARMENIAN.Net - The Russian edition of ForbesWoman has compiled a list of things that can easily be done in Moscow, but had better be done in the capital of Armenia, Yerevan.
You can forget about you car and walk in the Armenian city, the article says: "There are no identical streets or buildings in Yerevan. There are also constructions of neo-classicalism from pink tuff, others from the times of constructivism, as well as real slums. Patterns around windows of houses are similar to those on the Armenian churches, with bas-reliefs never repeating each other."
The article recommends visiting the Cascade and the Matenadaran, and attending a jazz concert: "Jazz has been listened to and played here since 1938. In the colorful Malkhas Jazz Club you can enjoy the virtuoso music performed by Levon Malkhasyan, rightfully considered a legend of Armenian jazz."
It is worth visiting places outside the capital of Armenia to discover fascinating mountain views and picturesque villages, the article says. The publication recommends visiting Lake Sevan, the pagan temple of Garni, as well as the Yerevan Brandy Factory, located near Yerevan.
The author also weighs in on Armenian cuisine: "Traditional Armenian cuisine is not limited to lavash. Nevertheless, lavash just taken out of the tandoor is worth trying. Just wrap vegetables, cheese and fresh greens in it," the publication says, also recommending all sorts of cheeses (like chechil and chanakh), khash and Harisa.
The Armenian brandy is also worth your attention, the article says: "To fully appreciate how painstaking is the process of preparation of brandy before it reaches the shelves in shops, you can take an excursion to the Yerevan Brandy Factory, where you can find out all the details about distillation and blending and, most importantly, taste alcohols of different aging."