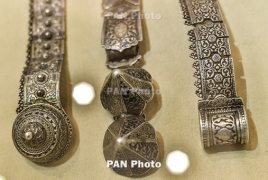 February 14, 2018 - 12:30 AMT
PanARMENIAN.Net - If you want to savour an authentic experience shopping in Armenia, especially handmade goods, handicrafts and antiques, the country is right up your alley, holidayme travel platform says.
Alternatively, if your taste in shopping is tad modern, the country also has a few malls and established department stores, especially in the bigger cities.
"Right from sprawling flea markets to quaint art galleries to massive malls, Armenia will offer shoppers something that piques their interest," the article says.
Vernissage
Looking to buy some unique souvenirs for your loved ones back home? Vernissage is the place you're looking for! An incredible flea market located in the capital city of Yerevan, Vernissage offers everything from circuit board components to carpets, handicrafts, Soviet relics, books, memorabilia, flags, ceramics, jewellery, paintings, woodwork, knives, and more!
Dalan Art Gallery
It's one of the oldest Armenian souvenir shops located on the beautiful Abovyan Street, which also happens to be one of the oldest street of Yerevan. Dalan is a favourite among tourists and locals; it's the perfect place to shop for all kinds of souvenirs, at an affordable rates.
Cafesjian Center for the Arts
A fan of contemporary art? A visit to Cafesjian Center of the Arts is a must. The center has two expansive garden galleries and five halls to exhibit designers creations. This multi-level art center has a gift shop that houses books, handmade dolls, designer items made of ceramics – a great source of quality souvenirs.
Gumi Shuka Market
If you are looking to soak in the feel of a local food market, visit the Gumi Shuka market in Yerevan. A quaint food market with an old-world feel, Gumi Shuka is a mystical place bustling with bakers, local farmers, and food vendors, selling everything ranging from meat to vegetables, to spices, fruits, sausages, dried fruits, and more. This bustling market is bound to give you the most authentic experience of shopping in Armenia.
The publication also recommends visiting Yerevan Mall and Dalma Garden Mall for both shopping and entertainment.