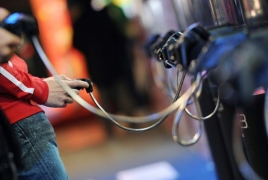 February 14, 2018 - 17:37 AMT
PanARMENIAN.Net - A joint research by the Basque research center BCBL and the London Imperial College reveals that, after a cerebral infarction, injuries in areas that control attention also cause motility problems. The authors propose to complement physiotherapy with another type of cognitive training, such as video games, News Medical reports.
The victims of cerebral infarcts that lose a part of the mobility of their body undergo physiotherapy treatments, while the therapies based on the training of attention are reserved for patients with cognitive disorders such as learning or memory difficulties.
Researchers at the Basque Center on Cognition, Brain and Language (BCBL) in San Sebastian and the London Imperial College have analyzed the architecture of brain injuries in stroke patients for more than three years. Their work proposes a new therapy for the mobility problems caused by ischemic strokes.
The study, published in the PNAS journal, has opened the door to a new therapeutic pathway that consists of complementing the physical treatments received by these patients with therapies to overcome attention deficit disorders, such as working with video games.
After accurately analyzing the patterns of brain injuries, the authors understood better the motility problems suffered by patients with cerebral infarction.
According to the BCBL expert David Soto, "patients with brain injuries in attention control areas also suffer motility control problems, even when the movement required by the task is very simple".