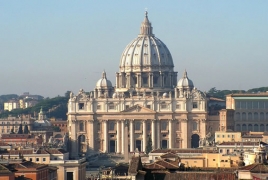 February 16, 2018 - 14:17 AMT
PanARMENIAN.Net - French-Armenian sculptor Davit Babayan is completing in the Czech Republic a statue of St Gregory of Narek, which is a gift for Pope Francis, set to be unveiled in the Vatican on April 5, Prague Daily Monitor says citing a report by CTK.
Babayan's statues can be found in many countries of the world.
The bronze statue, with an impressive beard, a face turned upwards and complementing motifs of a book, pomegranates and Armenian churches, is about two metres tall.
Current Armenian President Serzh Sargsyan earlier gave a small statue of St Gregory to Francis, who liked it very much, so the president offered to give him a bigger one on behalf of Armenia, Babayan said.
He said the most difficult for him was to express St Gregory's spirit.
Commemorating the 100th anniversary of the Armenian Genocide in the Ottoman Empire on February 23, 2015, Pope Francis confirmed a decree declaring St Gregory of Narek a Doctor of the Church, a title going to selected saints whose teaching and life have a special importance for the Catholic Church.
Gregory of Narek was a priest, monk, theologian and a significant poet and scholar. He is considered one of the greatest Armenian literary authors.