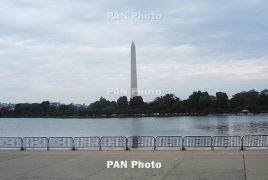 February 26, 2018 - 11:29 AMT
PanARMENIAN.Net - The Greater Washington Armenian American community - led by the Armenian National Committee (ANC) of Greater Washington and the Armenian Youth Federation (AYF) Washington Ani chapter - rallied on Sunday, February 25 in Soorp Khatch Church and on the streets of our nation's capital to celebrate the 30th anniversary of Artsakh's (Nagorno Karabakh) struggle for liberation and condemn the massacre of Armenians in Baku and Sumgait.
Speaking to a packed audience at the Soorp Khatch Armenian Apostolic Church Arabian Hall in Maryland, Permanent Representative of the Republic of Artsakh to the U.S., Robert Avetisyan, spoke powerfully about the resilience and dedication of the people of Artsakh in their efforts to build a stable, democratic country over the course of the last 30 years.
"When there is peace, we will flourish," said Avetisyan. "The Armenian homeland will flourish and it will open up a new era in our development as a nation and new era of presence of Armenians in the region." He went on to thank the audience for three decades of steadfast support. "30 years like this, I'm sure the next 30 years will be much better for the Armenian homeland. Let's ask the question of what we can do for our homeland at least once a week, if not more frequently and we will do it."
ANC Greater Washington Chairman Sipan Ohannesian noted President Aliyev's latest statements claiming Yerevan as Azerbaijani territory and noted "We juxtapose Azerbaijani aggression with Artsakh's commitment to peace and democracy. We meet Aliyev's rhetoric with action."
Avetisyan and Ohannesian cited the importance of ongoing U.S. assistance to the Republic of Artsakh, with over $40 million sent since 1997. He noted the critical role of the Royce-Engel proposals – spearheaded by House Foreign Affairs Committee Chairman Ed Royce (R-CA) and Ranking Democrat Eliot Engel (D-NY) – a concrete plan to reduce aggression in the region, calling for the 1) removal of snipers 2) increase of Organization of Security and Cooperation in Europe (OSCE) monitors at the line of contact and 3) the deployment of a gunfire locator system to clearly identify aggressors.
They noted the vital importance of breaking down artificial barriers to unrestricted travel and open communication between the United States and Artsakh (Nagorno Karabagh), Congressional Armenian Caucus Co-Chair Frank Pallone's (D-NJ) recent introduction of the U.S.-Artsakh Travel and Communication Resolution.
On the state level, each praised the grassroots efforts that led to the state recognition of Artsakh in eight states including California, Georgia, Hawaii, Louisiana, Massachusetts, Maine, Michigan, and Rhode Island – pledging to increase that number in upcoming months.