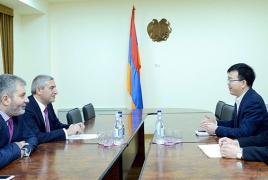 March 5, 2018 - 15:00 AMT
PanARMENIAN.Net - China Civil Engineering Construction Corporation (CCECC) is interested in designing and building the Iran-Armenia railway, a company representative said at a meeting with minister of transport, communication and information technologies Vahan Martirosyan on Monday, March 5.
According to the head of the Chinese delegation, the issue of including the project in the One Belt One Road Initiative will be discussed at China's trade ministry.
According to minister Martirosyan, the project is of strategic importance for Armenia and the country is ready to discuss the issue with the Chinese trade ministry.
The Armenian and Iranian governments approved the project back in 2009, but were confronted with the problem of finding sources for financing the railway that would cross most of the Armenian territory.