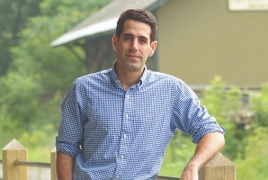 March 9, 2018 - 13:22 AMT
PanARMENIAN.Net - Congressmen of Armenian descent are a rare commodity. At present, there are only two, but a third candidate, thirty-three-year-old Donald G. Boyajian ("Don"), is vigorously making his case in the Democratic primary for New York State's rural northern 21st Congressional district, which includes the Adirondack Mountains and Thousand Islands regions, The Armenian Mirror-Spectator says in an article.
Boyajian's paternal grandfather, originally with the last name of Nersesian, came to Saratoga County in upstate New York from Aintab, with his name being changed to Boyajian by the American authorities out of a misunderstanding. He arrived during the period of the Armenian Genocide. Boyajian's maternal grandparents came to Providence from Palu.
Boyajian pointed out, "Since both sides of my family are 100 percent Armenian, I grew up going to the Armenian Apostolic Church, doing ACYOA [Armenian Church Youth Organization of America], and eating Armenian food two or three times a week (my mother is an amazing Armenian cook). We grew the grape leaves right on the fence at our house, and she makes yalanchi and sarma all the time from the leaves. It was a big part of my life growing up, both in the upstate community and visiting my mother's family in Rhode Island." He understands a little Armenian, and says that though he has not been to Armenia, and has not taken time to travel in general, it is "high on my list of things to do."
Boyajian explained why he wants to serve in Congress as follows: "I always have been primarily a policy driven person…I saw a lot of trends in my home community that I did not like, a lot of young people leaving, a lot of stores closing…I said I have to do something about this." He said his experience at the federal, municipal and state level will be very helpful, along with his bipartisan approach. He stressed, "We need to elect policy makers not politicians. This is a public service job."
Economic development is an important part of his platform. He said, "I think it is much more complex than any one facet would suggest, and there never can be a silver bullet solution for economic development." However, he supports conservation development regionally, and in general, said, "We need a huge reinvestment in infrastructure, with a bipartisan infrastructure bill." He said he would like to sit on the committee on infrastructure if elected to Congress. His nuanced understanding of trade and our strategic relationship with Canada will be useful, he added.
If Boyajian wins the Democratic primary, he will face incumbent Rep. Elise Stefanik, a Republican.