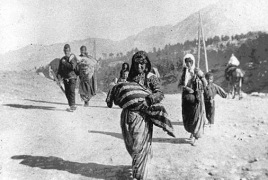 March 10, 2018 - 10:25 AMT
PanARMENIAN.Net - The USC Shoah Foundation on Friday, March 9 formally announced the receipt of one of the largest collections of testimonies from survivors of the Armenian Genocide, MyNewsLA.com reports.
The testimonies were recorded over several decades beginning in the 1970s by Richard Hovannisian, a leading scholar on the Genocide and the son of a Genocide survivor. The collection includes more than 1,000 interviews, making it the largest non-Holocaust-related collection added to the Shoah Foundation's Visual History Archive. It is also the archive's only audio-only collection.
Foundation officials officially announced the acquisition during an afternoon ceremony at USC. Ten of the testimonials — seven in English and three in Armenian — was made available to the public Friday, with others added over time as they are digitized and indexed.
The collection also includes documents and photographs relating to each interview, along with transcripts and translations. Many of the testimonies were recorded in Armenian, but about 20 percent are in English and some are in Turkish and Spanish.
An estimated 1.5 million Armenians died in the World War I-era genocide, which has been the subject of fierce political debate for decades.
"The figure `a million and a half' can roll right over our shoulders," Hovannisian said. "But it's different when you take those individual interviews and start listening to them one by one. And then it becomes a million-and-a-half individuals and the loss of a civilization, of a way of life, a space where people lived for more than 3,000 years, and everything that space contained."
The Shoah Foundation Institute for Visual History and Education includes 55,000 testimonies from eyewitnesses to the Holocaust and other genocides.