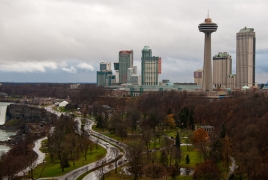 March 19, 2018 - 12:05 AMT
PanARMENIAN.Net - Leo Dardarian, an immigrant from Armenia started his restaurant career at the old International Hotel as an apprentice butcher and later talked Louis Rosenbloom, the owner of Louis' Restaurant at 103-107 Falls St., into hiring him as a dishwasher as he needed more money in order to send to his family in war-torn Armenia following WWI.
In an article published on March 18, the Niagara Falls Gazette recounts how, following the retirement of Rosenbloom, Leo took over part ownership with Sam Friedman and how the pair ultimately turned out very successful.
The same newspaper edition of May 5, 1948, announced the grand re-opening with a redecorated dining room and a re-equipped kitchen at a total cost of about $50,000.
Another announcement in the paper on Aug. 18, 1951 was the Incorporation papers filed by the Armenian Church which was a long, hard process with Leo acting as treasurer and he spent many hours raising funds and working with others to see his dream of a local Armenian Church in Niagara Falls.
A groundbreaking ceremony was held the following June of 1952 and the completed church was consecrated on Sept. 12, 1953. It was the first consecration in the ancient rite of the Armenian Apostolic Church on the Niagara Frontier. The nearest church was in St. Catherine's and Ontario Archbishop Tiran Nersayan, the prelate of the diocese, officiated. These had to be proud moments for Leo and the entire Armenian community involved. He was also active in various civic organizations.
Back to Louis' Restaurant – it was not until Aug. 1, 1958 that Dardarian and Friedman, co-owners of the restaurant finally were able to purchase the building at St. from the estate of the late Josephine Hoyle who had lived in Tonawanda but spent her remaining years in Colorado Springs, Colorado. Their business had been located for more than 50 years at the Falls Street location which had a 55-foot frontage on Falls Street and had two stories.
On Saturday, Nov. 7, 1959, Dardarian suffered a cerebral hemorrhage at the restaurant at 12:30 p.m. and died at Memorial Hospital at 9:45 p.m. His doctor said Dardarian did not regain consciousness after the attack.
Leo's wife Anna became co-owner with Friedman. The building was destroyed by a multi-alarm fire on June 30, 1967. The fire was reported to have started in a second floor woman's restroom and a dozen customers and 30 employees were in the building at the time but escaped unharmed. Acting manager Dominic Bianca estimated the damage to be over a half million dollars. Mr. Friedman stated in a Niagara Falls Gazette column of June 15, 1968, that the building would be demolished shortly. He said the lot would remain vacant as it was in an area slated for urban renewal.