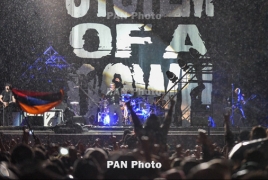 March 20, 2018 - 15:54 AMT
PanARMENIAN.Net - You may assume kids would have no idea how to handle a band as weird as System of a Down, but some of the youngsters loved SOAD, Loudwire says.
In the Fine Brothers Entertainment channel's newly posted 'Kids React to System of a Down' video, Kids were hown "B.Y.O.B.," which solicited some entertaining reactions once Daron Malakian's manic "Why do they always send the poor?" hit their ears.
Nine-year-old Jake, for example, seems buttoned up and somewhat timid, but loved SOAD from first listen, getting deeper and deeper into the band's wierd-o-sphere as each song passed.
"This is so much metal… and it love it!" he says.
Getting into "Hypnotize" and "Toxicity," it becomes obvious who connects with System and who doesn't. Young Sydney, who usually loves all things rock, doesn't get System. "When you listen to a song you're supposed to, like, feel something, like, have an emotion that's supposed to go with the song. With this, all I hear is screaming," she says. Sydney is wearing a Jimi Hendrix shirt, so she gets a pass with this one.
Like the members of SOAD, 12-year-old Anita is Armenian, so she appreciates the band bringing attention to issues like the Armenian Genocide. "It brings more attention to the thing that happened in the past and it brings attention to Armenian culture," she said.