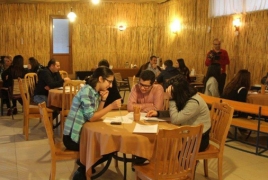 March 20, 2018 - 17:29 AMT
PanARMENIAN.Net - Upon the invitation of Tamarax Language Center, VivaCell-MTS General Manager Ralph Yirikian visited the center and gave a lecture for the students of different age groups.
Tamarax classes are organized in the following format: the speaker, who has been invited within the framework of the pre-selected topic, presents the industry, including history, current developments and vision of the future, and a discussion follows.
During the meeting dedicated to telecommunications, the participants got an opportunity to address questions to Yirikian. In the course of the meeting, the students shared viewpoints with the speaker and exchanged opinions, as well as acquired knowledge on corporate governance based on VivaCell-MTS's experience.
After the discussions, Yirikian presented to the audience the story of his life and weighed in on his first steps in telecommunications and the difficulties he faced during his career. Yirikian also touched upon the company's success story on its way of becoming the biggest telecommunications provider.
Among the students of Tamarax are people who have already succeeded professionally, and who work in leading companies or as private entrepreneurs. Some of the students are engaged in launching startups.
"The goals should be clear and the expected outcomes should be measurable. Nevertheless, it is also important to be ready that the efforts at the beginning may not pay off and may fail. However, it is important to realize that the acquired skills and experience are a great wealth in case of a proper application and personal input. In any situation, you should trust your own strength and never give up even if you don't reach the expected outcome," said VivaCell-MTS General Manager Ralph Yirikian to the participants.
The meeting with Yirikian was accompanied by a Q/A session. The audience was particularly inspired by Yirikian's approaches, which are full of patriotism. "If you ever make up your mind to leave Armenia for study or for work, get back by all means to steer your knowledge and your experience to the development of our country's economy," said Yirikian.
Tamarax was founded by American Armenian Tamar Arax Bardakjian. The center offers language courses, education and testing services for adults and minors alike. The center also has music classes, including programs for violin, piano, and solfeggio.