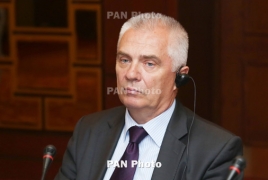 March 20, 2018 - 18:23 AMT
PanARMENIAN.Net - The EU delegation in Armenia has announced the launch of EU for Youth project and four new youth empowerment programs in the country, Panorama.am reports.
When the project launched on Tuesday, March 20 , EU ambassador the country Piotr Switalski urged the Armenian youth to create a different state.
"It is your responsibility to create a better future for your country," the diplomat said.
"EU believes in the youth, especially in the Armenian ones. You boast the advantage of a wealthy civilization, you have famous people in all the fields."
According to him, young people should be able to push the country forward and unveil it to the world.
Also, Switalski said Armenians are talented, have a high IQ, and the European Union supports them by creating good education opportunities for them.