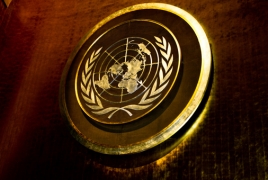 March 24, 2018 - 11:23 AMT
PanARMENIAN.Net - The United Nations Human Rights Council on Friday, March 23 adopted with consensus a resolution on the prevention of genocide, presented by Armenia.
Some 6 dozen countries representing all the regional groups of the Human Rights Council joined Armenia to co-author the bill which will stay open for signatures for two more weeks.
The new resolution reaffirms that the fight against impunity is the cornerstone of the prevention of genocide. Also, it expresses concern about the attempts to deny or justify genocide, stressing that such moves hinder the efforts aimed at the reconciliation between peoples and the prevention of the crime.
In September 2015, the United Nations General Assembly established December 9 as the International Day of Commemoration and Dignity of the Victims of the Crime of Genocide and of the Prevention of this Crime. December 9 is the anniversary of the adoption of the 1948 Convention on the Prevention and Punishment of the Crime of Genocide (the "Genocide Convention").
The purpose of the day is to raise awareness of the Genocide Convention and its role in combating and preventing the crime of genocide, as defined in the Convention, and to commemorate and honour its victims.
In adopting the resolution, without a vote, the 193-member Assembly reiterated the responsibility of each individual State to protect its populations from genocide, which entails the prevention of such a crime, including incitement to it.