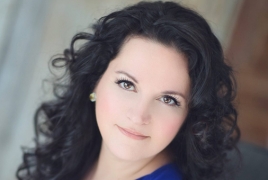 March 26, 2018 - 10:41 AMT
PanARMENIAN.Net - An Armenian-American writer, lecturer and activist, Anna Astvatsaturian Turcotte is returning to Fargo on March 27 and 28 as one of four keynote speakers at this year's "Building Bridges: Strengthening Partnerships for Stronger Foundations," the Grand Forks Herald reports.
Out of exile, Astvatsaturian Turcotte found solace in studying and writing.
"I wasn't a very social child. I never went to prom. I just studied," she said. "Writing for me was therapeutic. It was something I needed to do to move on."
The Armenian refugee was violently displaced along with her family, fleeing to now not-so-foreign North Dakota on the brink of her 14th birthday. Four years later, she was off to the University of North Dakota, despite others doubts, where she earned degrees in two majors, along with a minor, within four years.
Still, the journey to achieve her full potential was only just beginning.
Enrolling in law school, she moved to Maine, where she lives today with her husband and two children.
In 2012, she published her first book, "Nowhere, A Story of Exile," that she wrote when she was living in Wahpeton, N.D., with her parents and brother as new Americans. When she wasn't in school, she was translating her childhood diaries from Russian to English.
She said her intentions in writing the book were to pass along her family history to future children and grandchildren. She accomplished that while also earning the informal title of the Armenian Anne Frank.
Turcotte and her family were able to escape ethnic cleansing in Baku, Azerbaijan, fleeing to Armenia for several years while waiting in horrific conditions to hear where they would call home.
In February 1992, Turcotte's family arrived at Fargo's Hector International Airport. Volunteers greeted them in the dead of winter and drove them to their new apartment in Wahpeton.
Turcotte, 40, will return to Fargo as a keynote speakers at "Building Bridges: Strengthening Partnerships for Stronger Foundations" at the Fargo Holiday Inn. The conference is sponsored by Lutheran Social Services of North Dakota — the same organization that helped Turcotte and her family as refugees.
"People who didn't know Armenia and didn't understand where we came from assumed my parents were uneducated. People were surprised I went to a university instead of a tech school," she said. "To me it was important to do the best that I can. I had absolutely no limitations."
That's the message she shares with her children and refugee students across the country during her lectures. She said her family first came to the U.S. with only $200, but she worked hard and put herself through college and law school.
Turcotte speaks worldwide on genocide prevention, refugee issues, international law and human rights.
But she wanted to contribute more.
She decided to run for Westbrook Maine City Council in 2015, getting 64 percent of votes. In her third year serving the city, she continues working closely with her community's refugee population, which mainly consists of Iraqis.
Turcotte looks forward to sharing her perspective at Building Bridges as a former refugee and elected leader who aims to better the experience of other refugees and new Americans.