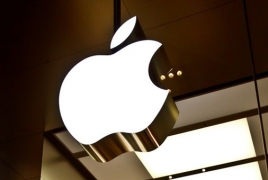 March 27, 2018 - 11:13 AMT
PanARMENIAN.Net - In a couple years, the iPhone could look very different. Apple might be taking things back there with a potential "foldable" phone.
That's according to analysts from Wall Street bank Merril Lynch who said Apple is aiming to produce the device by 2020, News.com.au reports.
While it might not be exactly like a flip phone, the foldable handset could double as a tablet when unfolded.
"We expect the iPhones this fall to be largely unchanged for the OLED versions although size changes have proved to be a catalyst in the past," analyst Wamsi Mohan said in a note to clients, after meeting with Apple suppliers in Asia.
"Our checks also suggest that Apple is working with suppliers on a foldable phone (that potentially could double up as a tablet) for launch in 2020."
Investment banks frequently release these types of reports but it's worth noting the musings they contain based on supply chain analysis can be fairly unreliable, especially when looking this far into the future.
However Apple has indicated its potential interest in this area of design. In 2016 the company was granted a patent for a hi-tech fordable iPhone made from ceramic. Apple had actually applied for the patent three years prior but kept it hidden from discovery by lodging the application under the name of the individual designers rather than the usual habit of lodging the patent application under the Apple name.
Other companies have also looked at making phones with dual screens in the past.
Chinese phone maker ZTE even released such a device, the Axon M, late last year, but failed to impress critics.
And Flextronics, a company that has been working as a manufacturer of Apple products for some time, even developed a dual-screen Android phone prototype all the way back in 2009.