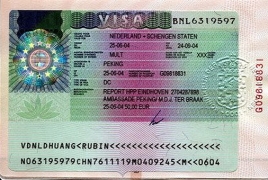 March 31, 2018 - 12:08 AMT
PanARMENIAN.Net - The justice ministry has blocked the processing of personal data of Armenian citizens by VisaMetric, a Russian-Turkish consortium, which means the company cannot collect or coordinate or transfer or use such information by the end of inspections currently underway.
The ministry is now conducting inspections to reveal whether trusting Schengen visa services for Armenian citizens to the Turkish firm complies with the country's legislation.
As reported earlier, the German embassy in Armenia will stop processing applications for Schengen visas for Germany, Belgium, Netherlands, Luxembourg and Austria starting from April 3 and transfer the function to VisaMetric. As it turned out later, VisaMetric is a Russian-Turkish consortium.
Visametric on Friday, March 30 submitted a notice to the ministry's data protection authority about the processing of special category or biometric personal data.
The agency then sent a letter to the company demanding more information required for personal data processing.
Armenia and Turkey have no diplomatic relations. While Turkey recognized the modern Republic of Armenia shortly after the declaration of independence in September 1991, the two countries have not established diplomatic ties. In 1993, Turkey reacted to the war in Nagorno Karabakh by closing its border with Armenia out of support for Azerbaijan.