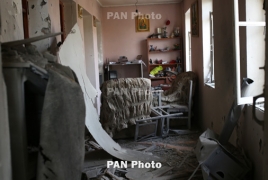 April 4, 2018 - 10:49 AMT
PanARMENIAN.Net - Eurasianet.org has unveiled an article about how a village in Nagorno Karabakh (Artsakh) which was virtually destroyed by the Azerbaijani army has become an example of postwar reconstruction.
Two years ago, Azerbaijani troops entered the village of Talish, less than a kilometer from the line of contact separating Armenian and Azerbaijani forces in Karabakh. In the fighting that ensued, Armenian forces managed to beat back the advance, but the village of about 540 residents – all ethnic Armenians – was virtually destroyed.
While some of Talish's men stayed behind to fight, all the women and elderly were evacuated.
Now, Talish has become a cause célèbre with Armenians both in the region and in its wealthy diaspora. The financing of the reconstruction has been shared by the de facto Karabakh government and the diaspora-run "Hayastan" All-Armenian Fund.
So far, 17 houses and an events hall have been reconstructed, and the water system totally renovated.
Further reconstruction plans include 25 additional houses and rebuilding curbs and sidewalks with decorative bricks, new streetlights. A new school and kindergarten are scheduled to open in September for the beginning of the school year. The de facto Ministry of Agriculture has developed a program to boost the region's economy, including supplying new farm equipment.
But not everything is being rebuilt: The houses closest to the line of contact with Azerbaijani forces are going to remain in ruins. "They are on the frontline and visible by the enemy, so they won't be rebuilt or inhabited," said Vilen Petrosyan, the village's mayor.